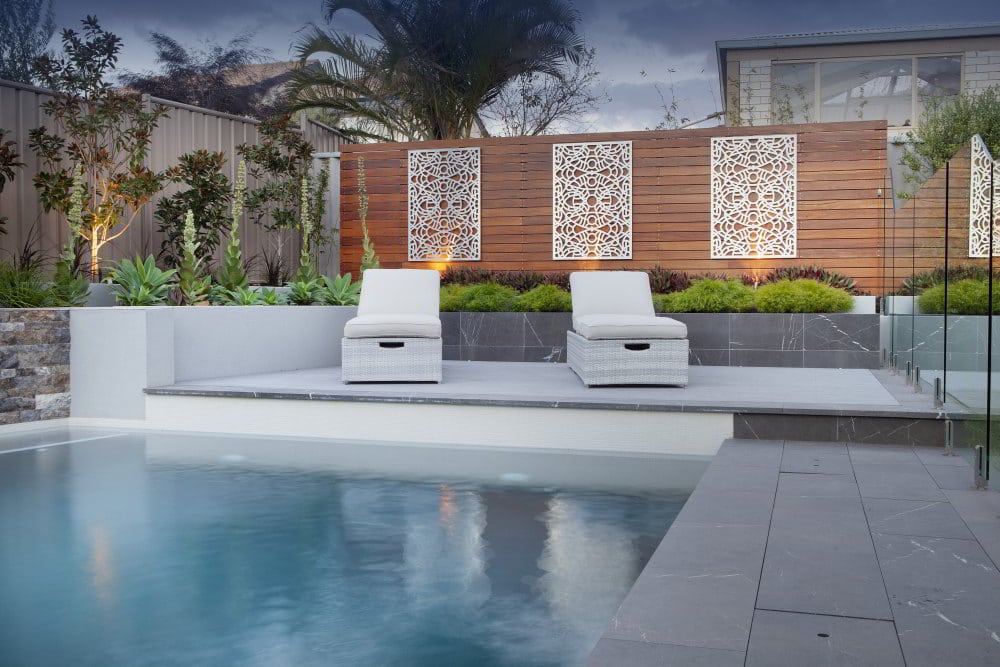 The Perth landscape professionals weigh in: How to maintain your pool in winter
It goes without saying that for most pool owners, the pool sits idle in the backyard during the winter months. While Perth winters are mild and we don't have to protect our pools from freezing temperatures, taking care of our pools in winter can save money and ensure that when swim season is once again on the horizon, the pool is quickly back up and running.
Here are 6 handy tips for maintaining your pool in winter:
Keep it clean

–

sounds simple right? A scoop of leaves from the pool water and a quick vacuum or sweeping of your wading area can easily avoid the buildup of leaf matter and

potential algae growth

.

Cleaning up organic matter

also stops the plaster or fiberglass surface from staining. 

Make sure it's covered

– pool blankets are much more cost-effective these days, so there's no excuse not to cover your pool in winter.

They help to:

 Trap heat, which in turn helps to stabilise the water chemistry and reduce power consumption if your pool is heated 

Keep debris out of your pool for less maintenance during winter and less work when summer comes back around 

Rebalance your pool chemicals

– when your pool isn't being used, it often gets the 'out of sight out of mind' treatment

,

however, it

's very important to keep your pool chemicals balanced all year round. This prolongs the life of your pool's surface as an unbalanced pool can quickly affect the pool plaster.

Don't forget about filtration

– while Autumn is a beautiful time of year with tree foliage changing colour, this also means leaves will drop into your pool and collect in your skimmer box or filtration. Our advice it to empty your pump filters and flush out your cartridge filters regularly.

Test, Test, Test

– with all the rainfall, your water will become unbalanced quickly. Ensure you test your pool water regularly.

Stick to a maintenance schedule

– Routine will help you to keep on top of your pool maintenance. If you are time poor, contact your local pool shop and they can provide the details of a pool technician who can take care of everything for you.
Get ready for summer now and install a pool!
Believe it or not, winter is the best time to install a pool. The busiest time of the year for pool installation runs from September to December, with lead times blown out across the board. Pool company construction times, engineering, drafting and council approvals also slow down during these busy months. 
As the entire pool planning and build process can take 3 to 4 months, getting a head start in winter is a huge benefit. Avoid the summer waiting game and get the process started in winter so your pool is ready to go for Christmas!
Our pool construction process
The Principal Pools + Landscapes process starts with a site consultation and conversation between our director Cullen Long and yourself, where we discuss your wish list, pool options, seating and wading areas, water features, heating and more! From here:
A pool and surrounding landscape design that ticks all your boxes is created. Seamlessness is imperative and a good design will achieve that, rather than the old 'plonk a pool in the backyard and hope for the best' strategy. 

A detailed and itemised quote is provided nd once approved, your project will be booked in.

The planning stage involves drafting, engineering and preparation for council approval (which can take up to a month). 

Things get really exciting once council approval comes through – site construction commences and Cullen will discuss material selections such as tiling, coping, plaster colours, lighting, equipment and heating options. 

When your pool is nearing completion, your pool safety barrier will be installed prior to the pool being plastered and filled with water. Then you can dive, bombay or slip into your new pool and enjoy for years to come!  
Onsite consultations within Perth metro are free of charge and our results speak for themselves; awarded Residential Landscape Designer of the Year in 2018 by industry body LIAWA. We're proud of our achievements and look forward to creating many more beautiful gardens and pools to enhance our clients' lifestyles.