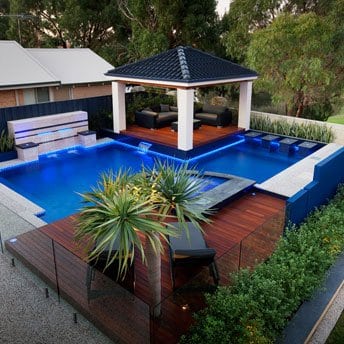 We Got The WOW Factor
Susanne & Darren Ross

Gentlemen, and I mean that, you are truly a rare breed. Susanne and I, and our three kids who all adore you, all wish to thank you for our backyard that you have worked so hard to give us.
When we finally decided to undertake what was a massive undertaking for our backyard, we really had no idea where to even begin. We phoned a few landscape designers who we had pulled out of magazine articles to start with, and found in reality they were just overpriced draftsman that actually had never installed a block of paving in their life.
My confidence was low that we would actually get someone who could take our pretty basic ideas, and turn them into something that we would enjoy for a long long time.
Between viewing your website and the Scoop Magazine articles we found on your past work, I contacted you for our first appointment.
You were prompt, on time, humble, and we found your design fees very reasonable given the scope of our design. My brief was simple; I wanted something stunning that would give us the WOW factor. Importantly, I didn't have any time to manage the several other trades that would be on site and was looking for someone I could trust to manage this aspect if needed.
The key selling point for me was the approach you took; nothing was too much trouble and you listened to what we had to say. It was a huge undertaking, yourself and your team were at our home for almost 3 months, and in that time worked incredibly long and hard through the heat of summer for something you deserve to be immensely proud of.
Yes, we get to enjoy it for many years to come, but you created something from nothing. We love the outdoors now and our functioning backyard that has actually brought our family closer together.
To yourself and your construction teams, my family and I would like to thank you for the efforts you went to and the commitment you gave to turn our backyard into the thing of beauty it is today. I would have no problems what so ever in recommending Principal Pools + Landscapes to anyone.
Darren & Susanne Ross
Read More
Read Less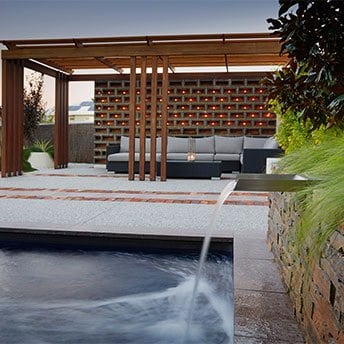 Functional Summer Party Pad
Brian & Craig

Principal Pools + Landscapes remodelled our boring, under-utilised and average garden into a stylish, low-maintenance, functional summer party pad!
Cullen was able to take a few of our general ideas, and craft them into a beautiful design. When things were not just right, we were able to adjust the design without any fuss or bother. The design process was so easy, things just fell into place.
The Principal Pools + Landscapes team were awesome. Demolition was surprisingly swift, but yet the remaining garden was kept as tidy as possible. The installation process was also painless, with great attention to detail and quality craftsmanship.
18 months on the garden looks as good as the day they finished – better, in some ways now that plants are maturing!
We'd highly recommend Cullen and the Principal Pools + Landscapes team if you need a new pool or landscaping.
Brian & Craig
View the project photos here.

Read More
Read Less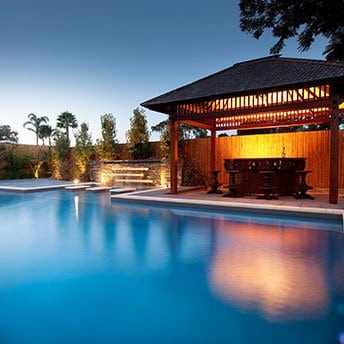 We Got Everything We Asked For
Tina & Mike Parish

When we moved into our new house, we knew we wanted a pool, and somewhere for the kids to play, but above that we had no idea how to fill up a 900 sqm block which closely resembled the building site it had recently been.
Fortunately for us, we were recommended to Cullen and he took on our project with commitment and enthusiasm from Day 1.
The result? We have a backyard that elicits a "WOW" from all our visitors.
We'd like to claim some credit, but really Cullen designed it all – from the pool and surrounds to the sunken retreat with pizza oven, the feature plants with up-lights and the Bali-style bar area we asked for.
Cullens' construction team toiled away building retaining walls in 40 degree heat and everything flowed smoothly from there.
Above all, he took the time to ask what we wanted and built this into his design and we were absolutely delighted with the end product.
We would unreservedly recommend Principal Pools + Landscapes to anyone considering a landscaping or pool project – large or small.
Tina & Mike
View the project photos here.

Read More
Read Less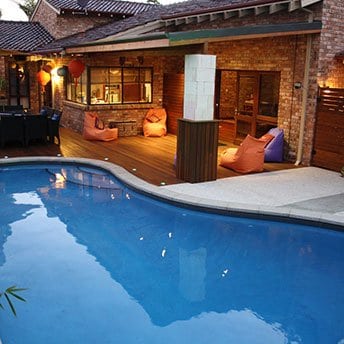 Remodelled Backyard Achieved
Leah & David Vicars

Last Year we commissioned Principal Pools + Landscapes to remodel our backyard and renovate our concrete pool.
Our yard was in its original state, very 80's with lots of brick paving and palm trees.
We spoke with Cullen and he designed a very functional and beautiful backyard which impresses everyone who comes over.
Throughout the renovation we found Cullen and his team to be nothing but professional and fun to work with, and they kept us fully informed every step of the way.
The job was done within our budget and time frame; we needed it completed before Christmas which the lads ensured.
Nearly 12 months on and it still looks as fabulous as the day it was completed!
Principal Pools + Landscapes have also done another small job for us since then and when it comes time to redo the front yard, they'll be ones we'll be calling!
Leah & David
View the project photos here.

Read More
Read Less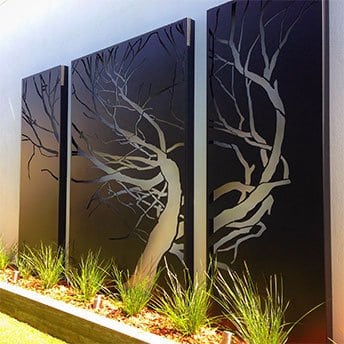 Professional Landscapers
Andrew & Nicole Leong

Just want to say a big Thank You to Cullen and the team at Principal Pools + Landscapes who have turned our small yard into something beautiful and functional that we will enjoy for many years to come. It was a pleasure dealing with Cullen from the beginning and they really are professional tradespeople.
I run a busy business so don't have time to waste in meeting tradesman to quote and following up with them especially with those that don't even show up.
It was easy to talk to Cullen to convey what we wanted, he had very practical suggestions and everything was smooth sailing after that as he coordinated all tradesman from then on. We love the low maintenance of it all and the kids love the water feature.
Andrew & Nicole

Read More
Read Less
Smooth Sailing
Adam Scott

Fantastic service and finished product. I fully recommend Cullen and the team at Principal Pools + Landscapes very highly. I found Cullen to be extremely consultative in the sales and design process, providing helpful advice and guidance throughout. This continued during construction and also since completion. On site the team were extremely courteous and actually nice to have around the place (important as you might have them around for many weeks at a time!). Cullens' onsite supervisors extended the same consultative and friendly nature shown by Cullen, which took all the stress out of it. The works themselves were created to spec and have just got better and better as the plant selection has matured.
Top tip from me, make sure you get Principal Landscapes to do your pool if you are having one, my experience of the pool industry is not a good one but Cullen and the team will make it very smooth sailing.
Adam

Read More
Read Less
Landscape Frustrations Solved
Jodie & David Francis

We were frustrated in our endeavours to find a landscape designer that was able to provide us with a design solution as well as provide a construction service at an economical price.
Through a friend, we were introduced to Cullen, from Principal Pools + Landscapes.
Cullen prepared for us a no obligation design to our brief for our existing home in City Beach, offering a number of interesting design solutions that we had not considered.
We collectively worked on the design to a stage that would allow Cullen to prepare a quotation for the work, utilising his own team of tradesmen and selected sub-contractors.
From the commencement of works, Cullen was always keeping us up to date with how things were progressing and was able to accommodate additional works for us within the program.
The final result for us turned a disused courtyard area and back yard into a space that we now use frequently; we are proud to show off our backyard now to our friends.
I would not hesitate in recommending Cullen and Principal Pools + Landscapes to anyone considering a front yard or backyard makeover.
Jodie & David

Read More
Read Less
Very Good Operators
Steve Lemonis
Principal Pools + Landscapes designed and installed the landscaping for my new home in North Beach.  The end result is fantastic and a number of friends and family have remarked on it.
Cullen is so straightforward to deal with and was very happy to go through different ideas to get to the best result.  Given the layout of the block, there was a couple of difficult areas to work with, yet what started out with me hoping to make those areas 'usable', ended up with two great additional outdoor spaces.
Cullen's on site team are great – very good operators and also very respectful guys (a couple of neighbours also commented on this).
Thoroughly recommend Principal Pools + Landscapes.
Steve

Read More
Read Less
Immediately Felt At Ease
Mandy & Martin Croft

It was an easy choice to ask Cullen to help redesign our backyard and incorporate a new concrete pool at our home in Subiaco. I bought a few magazines and looked for designs we liked the most, and they were nearly all his work. When I contacted him to discuss the project I immediately felt at ease. He was really easy to relate to, and very quickly came up with a plan that was exactly what we wanted. He did a great job of keeping the project running on time and to the budget he outlined. His crew were a great bunch of blokes. The enthusiasm they had for their work was wonderful to see, and the quality of their work was outstanding. If ever a problem arose, Cullen was always available to take our call, and always able to solve the problem with a minimum of fuss.
The end result was quite spectacular, and we cannot speak highly enough of Cullen and his team at PPL.
Mandy & Martin

Read More
Read Less
Hassle Free Landscaping Experience
Kelly & Birsan Kasumovic

Cullen and his team did a great job landscaping our gardens at our new house in Mosman Park. From design through to construction and selection of plants, Cullen and his team were great to deal with. He was always available to answer questions, offer advice and give suggestions. Nothing was too much trouble. Would highly recommend him to anyone who wants a professional, hassle free landscaping experience.
Kelly & Birsan

Read More
Read Less
Strongly Recommended Landscaper
Simon Dec

Cullen and his team did an awesome job at my new house in Sorrento, from design stage to the finished landscape. His creativity is really impressive and he has a wonderful flexible style. He pays attention to every minute detail. My level of satisfaction while working with Cullen is very high indeed and I would recommend him very strongly!
Simon Dec.

Read More
Read Less
Great Work By Whole Team
Rob Monzu

We engaged Principal Pools + Landscapes to design our garden and outdoors to complement the design of our new home, which was also to be a display home for a period of time. Our brief was for a contemporary, functional and interactive landscape that embraced the house. We were really impressed with Cullen's ability to translate our ideas into design concepts and provide suggestions for materials, plants and features throughout the design. Thanks for a stunning, family friendly, low care landscape and outdoors that the family love. Great work by the whole team. Highly recommend them!
Rob

Read More
Read Less
Process Was Enjoyable
Brad & Lisa Foote

Dealing with Cullen and all of his workers was an easy and pleasant experience. Cullen listened to what we wanted and then offered suggestions as to how we could improve what we already had in mind. The design included a new pool, cabana roof and landscaped surrounds so it was important to design the space as a whole.
The process was enjoyable and the result was fantastic.
We would highly recommend Cullen and have used his team for maintenance since the job was finished.
Brad & Lisa

Read More
Read Less
Friendly And Professional
Linda Hillgrove

The team at Principal Pools + Landscapes did a fantastic job of renovating our sad, old pool area and surroundings. Cullen's design started taking shape as soon as the friendly, professional team began work. All of the work was completed to a very high standard and nothing was too much trouble, in terms of adding or changing things. Our Pool area is now in the 21st century and with the lights on at night looks good enough to be in a magazine! A big thank you to all.
Linda

Read More
Read Less
Trusted Landscapers
Alain & Kat Van Den Elshout

AWESOME company! Could not recommend them enough. If you want the best looking garden on the street these guys are a must. Cullen and his staff were all incredibly friendly, professional, respectful and knowledgeable. No change was a problem. Work quality is fantastic. Trusted them completely for our front yard and pool area and will be getting them back to do the rest asap! Thanks Guys!
Alain & Kat

Read More
Read Less
Efficient And Professional Landscapers
Brad & Caroline Stein

The team at Principal Landscapes are efficient, professional and very easy to work with. The guys, not only left the house looking amazing, they made the whole process of landscaping our front and back gardens a fun and creative process. Nothing is too much trouble and the quality of workmanship is second to none.
Could not be happier with the result.
I can highly recommend the team at Principal Landscapes
Brad & Caroline

Read More
Read Less
Landscapers With High Standards
Fiona & Pete Clements

We are beyond pleased from our experience with Cullen and his team from Principal Pools + Landscapes, from our first meeting we found Cullen to be knowledgeable, enthusiastic and very timely.
Our landscaping job in Claremont was a large project and having it completed on time, and immaculately was imperative given it was to be used as a display home.
We highly recommend Cullen for his consistency, service and completion of a very well done job of high standards.
Fiona & Pete Clements

Read More
Read Less
Approachable And Responsive
Leanne & Mark McNally

The Principal Pools + Landscapes team were very efficient and friendly. Nothing was too hard and they were happy to change things as the job progressed. Cullen was always approachable throughout the project and was quick to respond to emails and phone calls. All in all, a seamless and successful outcome for our garden, pool area and courtyard.
Leanne & Mark McNally

Read More
Read Less
Modern Outdoor Kitchen Achieved
Kaye & Ron Tait

PPL designed and constructed our outdoor kitchen and entertainment area, from the bland uninspiring area it was to it's now beautiful fully functioning, modern outdoor area with pizza oven.
Cullen took our brief and came up with a design that exceeded our expectations, along the way there were a couple of things we wanted to modify and he was most obliging and willing to meet our needs. Our outdoor area has become the central hub of our house and always draws comments of how practical it is and how well it has been finished off, this is all down to Cullen and his team at PPL.
Kaye & Ron Tait

Read More
Read Less
Landscaping Went Perfectly
The Robinson Family

Cullen and his team were friendly, efficient, professional and expeditious in not only the design but the building phase of our backyard in City Beach. The area his team worked on went from a sand riddled mess to a contemporary 1960's inspired space. The space is perfect for our young family and we cannot recommend him highly enough. Presently we are in discussion with Cullen to undertake work on the front garden area of our home.
We highly recommend Cullen and his team for any prospective work.
The Robinson Family.

Read More
Read Less
Service Was Excellent
Kevin & Sue Foster

Cullen and his team at Principal Pools + Landscapes have produced a great garden, pond, deck, paths and driveway for us at our new house in a northern coastal suburb of Perth. The level of service was excellent from the initial design through the construction, planting and handover. It was great that Principal Pools + Landscapes could work in with the builders program and other trades. The garden design complements the style of the house and fits nicely with the beachside environment. Well done team. Thank you!
Kevin & Sue.

Read More
Read Less