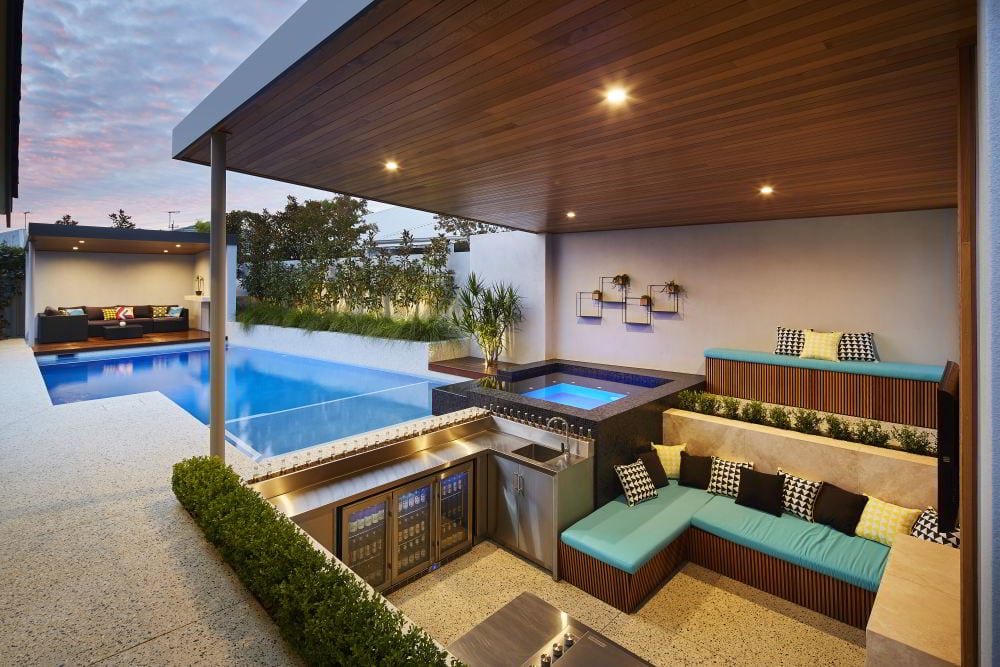 Clients often ask me whether a garden design is required for their project. To accurately answer this question, a few variables must be considered first. We must assess the level of detail required as well as the clients' budget and the construction scope. When it comes to budget, if the project value is between 10-20k and consists of a simple lawn area with a few ground level gardens and paving, you might not need a design. But if that's the case, it's important to make sure everyone is on the same page in terms of layout.
There's nothing worse than the quoted scope not matching what a client wants; if there is no design provided, these discrepancies generally don't become evident until the construction phase (the client returns home from work and the lawn area is a lot smaller than they had anticipated)! In situations when a landscape design is not required, good communication is vital to ensure you know what you're getting. For more detailed projects which might have items such as a pool, roof structure, level changes, planter boxes, walling or an outdoor kitchen, the answer is yes- a design is a vital part of your project and something you should consider carefully as it will maximise your investment and outcome.
To use an analogy; when you build a house, you receive your house plans, review them and once you're happy with the layout, specifications and materials, you sign off on them. This process creates a clear understanding of what you're getting and ensures a result which will match your vision and budget, as well as a smooth construction phase. A garden design is exactly the same. First you will research and choose a landscaping company, you will then meet on site to discuss your project in detail. From there a fee will be presented for your garden design and you will choose if/when to proceed.
The value of a good garden design becomes fully evident in the end result of your project. It's easy to plot in some lawn, a few planter boxes and a water feature, but the important things quite often get overlooked such as material cohesion, finished levels and positioning of big ticket items such as a pool or roof structure. You would be surprised how often I meet with a client who has already installed their pool prior to engaging a designer, and their pool has been installed in the wrong spot! The pool company might simply suggest the pool be installed in the easiest or most cost-effective position. Often that means you're left with surrounding areas which are disjointed, divided by pool fence barriers and unconnected to your alfresco or home.
A garden design will help maximise functionality by creating a layout which is seamless and best suited to you and your family.
When considering your budget, if you're looking to spend upwards of 30k I would suggest you consider engaging a designer first. A scaled 2D drawing will allow the entire yard to be designed with items such as pools, roof structures, walling, entertaining/seating areas, lawn/gardens to be positioned to maximise functionality and visual impact. Pools should be positioned so that they don't interfere with services such as Water Corporation sewer mains. A concrete pool can also be designed to suit a specific space; dimensions, depth and shape are all open to discussion. Wading areas, seating and even a swim-up bar can be incorporated. You should also consider positioning your pool so it can be seen from inside your home; even in winter when not in use, pool lights can be switched on and your pool becomes a glowing body of water which can be viewed from the home. Pool pumps can be noisy so equipment should be positioned in an area where the noise won't impact you and ideally screened out of sight. Roof structures should be positioned to comply with council regulations. They will also create a zone for entertaining or relaxing and are quite often best positioned further away from your existing alfresco area to draw people out to the yard. Positioning of all remaining components within your garden is just as important.
A good design should take in account your material palette, to ensure cohesion and visual interest. Materials such as paving, walling, stone cladding, timber decking, painted render and ceiling finishes should all connect together and compliment your homes exterior and interior. A good design will also include a detailed plant list, one which takes into consideration specific species suited to specific areas such as full sun, shade or coastal conditions. Plants can also be used to hide unsightly fencing and soften areas such as paved courtyards. A good design will specify finished levels; whether a deck can be level with your internal flooring for a seamless indoor-outdoor transition, how many steps might be required to access a sunken fire pit or lawn area or the heights of walls or planter boxes. Most importantly, a good design should not only impress you, it should be tailored around your wish list, your lifestyle and meet your budgetary requirements. A 2D design will help you visualise what the end result will look like and will explore possibilities and ideas which quite often get glazed over. 3D design will go even further, helping you to visualise your new garden or pool.
Whatever you decide, remember you'll be living in this space and that means it should be perfectly suited for you.